The Creation of two Fields out of Central Uganda Conference has not come without challenges and among the challenges is the manpower sharing. When North Buganda Field was created, a president was needed and the Committee nominated Pr. Simwogerere David to be the North Buganda Field president. Having come from the Union, a replacement was needed and his counterpart at the CUC, Pr. Usaba Josiah was nominated.
The formation of West Buganda Field, in Mityana also came with manpower issues which saw the Chief Auditor of CUC, Elder Kakonge Godwin taking the Executive Treasurer position in WBF. Essentially CUC lost two of its crucial staff in the alignment.
As it is with CUC, a farewell party was organized at the Conference in the duo's honor and on Friday afternoon of the 19th February 2021, in the Conference gardens, the two officers were formally sent off with speeches of appreciation and gifts.
Gallery
CUC Farewell party for elevated leaders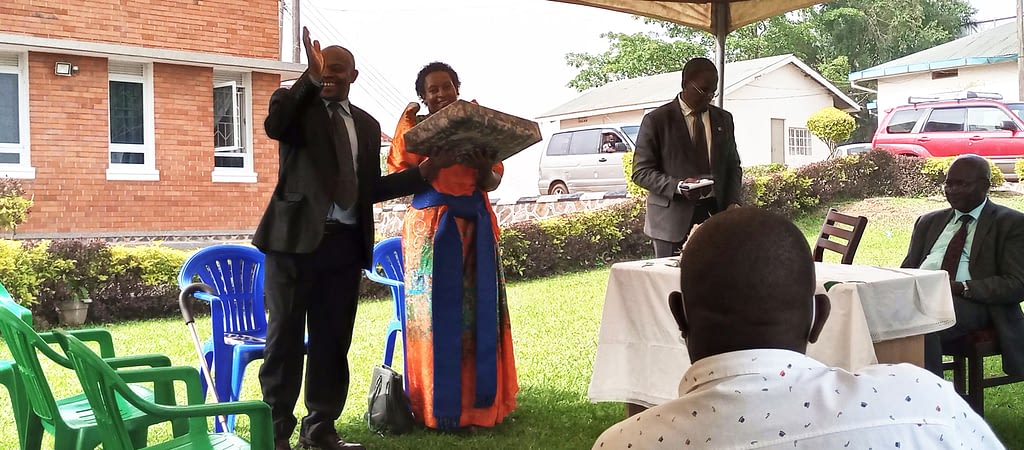 Pr. Kajoba Samuel, the CUC president, praised the work of both men, praising Kakonge for 25 years of dedication to the Conference. Pr. Kajoba said it is very imperative that people learn to groom those who will come after them to take up the mantle. Reading from the book of …………. he cited the example of …………… who was groomed by…………. and the mission went on successfully..
He thanked Pr. usaba that despite all, he rose from a remote village in Kyazanga District, Bijaaba Church, now to Union level, a feat which is hard, given his disadvantaged background, but hard work saw him through.
The Executive Treasurer, Elder Miiro Edward noted that the Union never chooses people who are just gambling or learning, it chooses the best from its entities to serve, so these two, he said were noted for their commitment to the work and chosen to go to these places of responsibility. He encouraged them to keep the good work which the Union saw in them and which led to their choice..
The Executive Secretary, Pr. Alisengawa Jeremiah noted that the two celebrants were very respectful people and encouraged other to emulate them.
Pr. Usaba on his part thanked the Conference for nurturing him and supporting him to this level and requested that he remains family of CUC despite his elevation. Elder Kakonge prayed to God for the power to handle the new appointment because, as he noted, "in the past, I was hiding behind the CUC treasurer, but now I am on the frontline as the Executive Treasurer of the new field…"
The ceremony was crowned with gifts where Elder Kakonge Godwin received 61 bags of cement and Pr. Usaba Josiah received a water tank and water pump for his retirement home.
By Pr. Kaggwa Rogers, Communications Director, CUC