Despite the mid-afternoon downpour that happened during the event, Central Uganda Conference administration still went on to colorfully celebrate the service of former Central Uganda Conference (CUC) children ministries director, Mrs. Mugerwa Lilian Bikongoolo at a farewell party that took place last Friday on 29th, October 2021 at Source of the Nile Hotel in Jinja.
Central Uganda Conference administration thanked Mrs. Mugerwa Lilian for her hard work and courage during her two terms of service at CUC that spanned eleven years serving as Children Ministries (CHM) Director. CUC president, Pr. Kajoba Samuel thanked Mrs. Mugerwa Lilian for being cooperative, teachable and trustworthy. He went on to commend her for accepting to take on challenging responsibilities among a male dominated society, notable among them being the Chairperson for the organizing committee of the first ever Virtual Campmeeting held in CUC that happened last year in 2020. He thanked CUC leadership and staff for the cooperation through which God has enabled growth to happen even amidst the prevailing challenges.
In attendance was CUC treasurer Eld. Miiro Edward who commended the individual support, cooperation and hard work of every team member. He accentuated the fact that CUC had surprisingly registered continued growth even the Covid-19 challenges. He pointed it out that it is the special work of the Holy Spirit through which God had enabled the conference to achieve this growth and thereby accordingly called for continuous cooperation and hard work from all for even greater success and growth.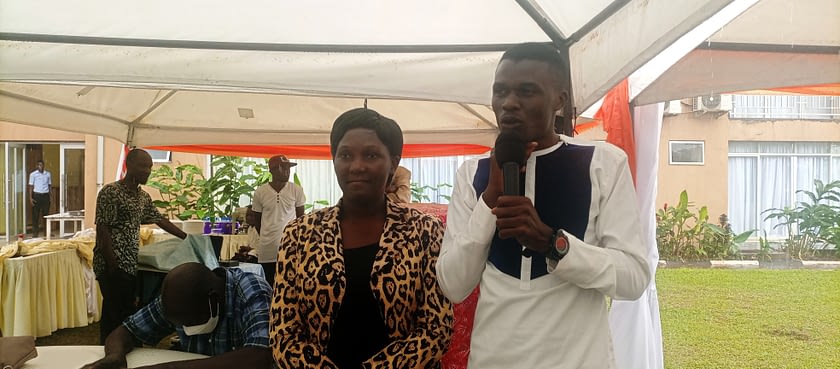 In her speech, Mrs. Mugerwa Lilian Bikongoolo, now the Education director and Women ministries leader at Uganda Union Mission of Seventh-day Adventists, thanked CUC administration and staff for being more than just workmates but a family that has nurtured her in service from the time she joined the ranks just a few years after her baptism into the Seventh-day Adventist faith. She commended CUC for the love, support, and cooperation that she enjoyed during her tenure, something that enabled her to easily work with any office at CUC. She also specially thanked her beloved husband Eld. Bikongoolo Medison for his unwavering love and support through the years of her service at CUC. Also in attendance was the CUC Executive Secretary Pr. Alisengawa Jeremiah, several CUC heads of department, and members of staff.